Centaur Clinical at MEDICA 2022!
Like last year, Centaur Clinical was present at the world's largest medtech exhibition in Düsseldorf.
It was an opportunity for us to exchange with medical device experts, to discover tomorrow's innovations, to take part in enriching conferences and competitions and finally to meet manufacturers looking for support.
Once again, this exhibition was a success both on the organizational and human aspects.
See you next year!
21/11/2022
LA RENTREE DU DM: an unmissable event for CENTAUR CLINICAL!
Centaur Clinical was present, as it has been for several years now, as an exhibitor at the 10th edition of La rentrée du DM (4-5 October 2022).
This is a key event for the Medical Device industry in which CENTAUR CLINICAL participates for the training sessions and to meet its customers as well as new prospects, customers and partners.
We are delighted to have seen you there!
05/10/2022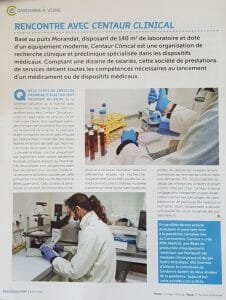 WE ARE MENTIONED IN THE PRESS!
The monthly magazine ENERGIES of the city of Gardanne talks about us in its June 2022 edition.
June 2022
EU MDR: New regulation around Medical Devices.
From 26 May 2021, the new Medical Device Regulation has come into force. This regulation aims to reinforce the CE marking. The implementation of this regulation was initially planned for May 2020, but the Covid-19 pandemic delayed it by one year. From now on, the level of safety, transparency and traceability of medical devices is increased compared to the previous regulation. The aim is to further strengthen the safety and quality of medical devices on the European market, in order to ensure the most optimal use of medical devices. Consequently, manufacturers and health authorities must adapt to this new regulation.
Centaur Clinical is able to assist medical device manufacturers in obtaining CE marking in accordance with this new regulation. Our expertise allows us to be present on the regulatory aspect as well as on pre-clinical tests and clinical trials.
Source: SNITEM